Get Ready for Bloggy Olympics!!!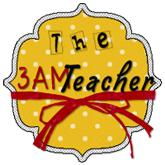 Join The 3AM Teacher, the Reading Olympians, and over 80 SUPREME education bloggers as we take you through a tour of the Reading Olympians Root Study Program!!
So a friend of mine told me about this great program that is hot off the press called The Reading Olympians. I love working with words and couldn't wait to get my hands on it. It also came just in time to use as a review for my students on suffixes and prefixes. We had spent a couple of weeks working with affixes and seized this opportunit

y to see if they had remembered what they learned.
I used the Jr. Nike section of this program

with my top group in my first grade class.
Sadly, though, one of my students who earns time to play an educational game on my phone each week must have erased most of my pictures. :-( I cannot tell you how disappointed I am.

But I will post the couple that I do have.
First, we reviewed what we had learned when we studied affixes earlier in the year. They amazed me w

ith what they had really soaked up.
Then I introduced the

raps that are included in this unit.

Their favorite was the one for "cent". In fact, I had a parent ask me about it on the playground this morning! He was amazed what they had learned!

...and let me tell you, you haven't lived until you've seen first graders rap! HA!
I used the fill in the blank activity to see if they were catching on to what we had been rapping about and they

all did perfect! I was so proud of them!
Throughout the week, the students worked on their Jr. Nike Journals where they would record their definition for the prefix, create a illustration to help them remember the definition (LOVED this part), and create a list of words that used the prefix in a word. (This part was a little bit hard for them, just because their vocabulary isn't quite that big yet.)

They were great at helping each other and everyone managed to get at least 2 or 3 words down. We even put their computer skills to work and found some words on the internet. (Their idea, which I thought was pretty resourceful

!)
Needless to say, the all aced the p

ost test.
I have to say how much I love the graphics in this unit. I have always been interested in Greek mythology and found these graphics very eye catching. Here is just a small example. (This is one of the pages that I used for reviewing what affixes

are.)
I will definitely have use for this as I teach the accelerated second grade class next year. I think they will definitely love it and g

ain a lot from it.
Thank you so much for stopping by!
Discover the program IN ACTION in more K-6th grade classrooms as you Pass the Torch!! Get ideas, discover the progression of the program, and enter the Raffle for a chance to win ONE of the three prizes listed below!!
First Place Winner : Gold Medal
Prizes: Complete Reading Olympians Program
$50.00 Amazon Gift Card
50% off Discount Code for a 1-Day shopping spree at The 3AM Teacher's Etsy store!
Second Place Winner: Silver Medal
Prizes: $25.00 Amazon Gift Card
40% off Discount Code for a 1-Day shopping spree at The 3AM Teacher's Etsy store!
Third Place Winner: Bronze Medal
Prizes: 30% off Discount Code for a 1-Day shopping spree at The 3AM Teacher's Etsy store!
Pass the Torch!!!
Click the image below to visit the next blog
Kindergarten:
Grade 1 & 2
Grade 3 & 4
Grade 5 & 6
a Rafflecopter giveaway